Preventive Health Initiative
Social Determinants of Health (SDOH)
CIS was founded in 2005 on the premise that Social Determinants of Health (SDOH) reflect social factors and the physical conditions in the environment in which people are born, live, learn, play, work and age.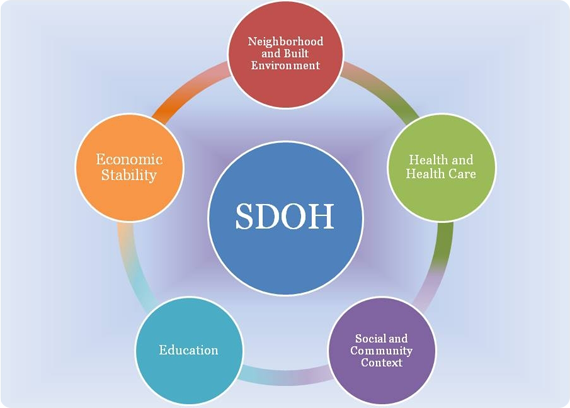 Fundamental to this premise, and with a mission to impact public health in a positive manner, CIS used the Community Guide's Model for Linking the Social Environment to Health (see enclosed). Per the U.S. Department of Health and Human Services (HHS) HealthyPeople.Gov Website, SDOH impact a wide range of health, functioning and quality-of-life outcomes.
http://healthypeople.gov/2020/about/DOHAbout.aspx

Examples of how CIS contributes positively to social determinants of health:
Availability of resources to meet daily needs, such as educational opportunities and healthy foods
Social norms and attitudes, such as promotion of diversity and reduction of discrimination and ageism
Center located in an otherwise healthy neighborhood; participants have minimal exposure to crime, violence, and social disorder
Program participants receive social support and social interactions throughout the day at our Center though a variety of social programs and activities
Exposure to mass media and emerging technologies, such as learning to use the Internet and social media in our Computer Learning Center
Reducing impoverished conditions by providing daily nutrition (breakfast and hot lunch) and food security (monthly food bank distribution)
Transportation – CIS provides rides several times a week to do grocery shopping and to doctor's appointments
CIS Health Services Impact

Per the Health and Human Services (HHS) HealthyPeople.Gov Website, Barriers to accessing health services include: Both access to health services and the quality of health services can impact health. CIS, in partnership with SCAN Health Plan and Medical Groups directly address access to quality health services. Lack of access, or limited access, to health services greatly impacts an individual's health status. For example, when individuals do not have health insurance, they are less likely to participate in preventive care and are more likely to delay medical treatment.
Lack of availability
High cost
Lack of insurance coverage
Limited language access
These barriers to accessing health services lead to:
Unmet health needs
Delays in receiving appropriate care
Inability to get preventive services
Hospitalizations that could have been prevented
CIS networks with a variety of health organizations and local non-profits to overcome these barriers for dual-eligible (Medi/Medi) seniors. CIS provides constant community outreach in the San Fernando Valley to seek out seniors who qualify for our preventive health services. We educate seniors and their families and assist them with systems navigation to access the preventive and clinical health services available to them.